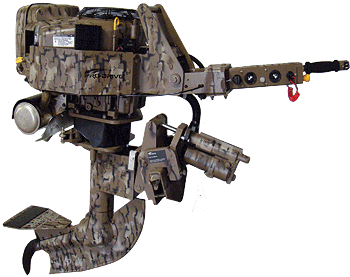 Pro-Drive New Marine Series 40HP Vanguard Big Block V-Twin with EFI is designed for heavy use in harsh hunting and fishing environments. Customers wanted more horsepower for increased speed and load carrying capacity. With the help of Briggs & Stratton this is now available from the factory and backed with their three year power head warranty.
All engines come with Hydraulic Power Trim and Hydraulic "FPR" Full Power Reverse. This reverse feature is like no other kind on the market. By rotating the lower unit 180 degrees and using the full strength of the prop's forward thrust, Pro-Drive gives you the only 4 wheel drive of the mud motor world.
In addition to Pro Drive's Full Power Reverse feature is the Automatic Full Power Reverse. This feature rotates the prop 180 degrees so the motor performs as well in reverse as it does going forward.