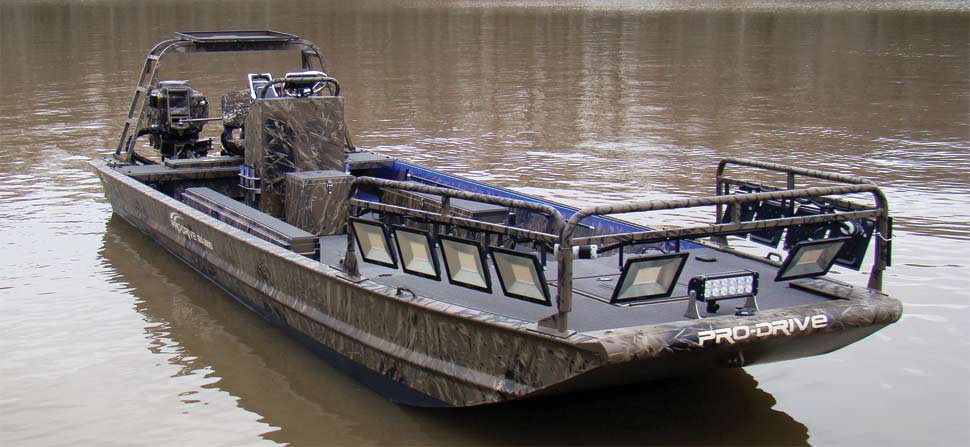 Pro-Drive's "SBX" Series Boat is the only aluminum hull of it's kind that has a completely "Self Bailing" cockpit. In addition to being a safe boat alternative in larger bodies of water that can become very rough, it is a quiet and smooth riding hull.
The "SBX" Series has a completely open floor that is welded in, sealed and pressure tested. Underneath this floor is the same structural design and materials as our "X" Series and "TD Edition" models. This elevated floor has two large scupper outlets in the rear that naturally evacuates all water that enters the cockpit from rain or swamping from a large wave. This is possible because the floor is above the natural waterline when the boat is at rest in the water. Even when left unattended, heavy rain has no effect whatsoever.
During testing the "SBX" was forced completely under water with a full rated load, including motor and when released recovered completely.
The "SBX" Models come with all the standard features listed in our other models with the exception of the 6 gallon gas tank. All "SBX" Models, with the exception of Dual Engine Rigs come standard with a 14 gallon gas tank.
| MODEL | LENGTH | BOTTOM | SIDES | BEAM | WEIGHT |
| --- | --- | --- | --- | --- | --- |
| 17 X 48 | 17' | 48" | 24" | 67" | 630 LBS |
| 18 x 48 | 18' | 48" | 24" | 67" | 830 LBS |
| | | | | | |
| 17 X 54 | 17' | 54" | 24" | 75" | 700 LBS |
| 18 X 54 | 18' | 54" | 24" | 75" | 750 LBS |
| 20 X 54 | 20' | 54" | 24" | 75" | 900 LBS |
| | | | | | |
| 20 X 60 | 20' | 60" | 24" | 78" | 1100 LBS |
| 22 X 60 | 22' | 60" | 24" | 78" | 1200 LBS |