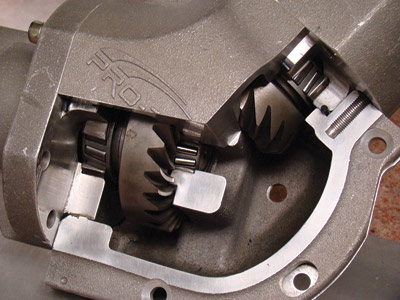 Gear drives have been the proven choice for outboard motor manufacturers for over 100 years. Sportsmen used these gear driven outboards to haul them selves and their gear long before shallow water boat motors came into the market, and the majority of them still do. Commercial fisherman and oilfield workers rely on marine gear drives to go out and make their livings everyday. The marine industry, as well as many other industries' continuous use of these drives, made Pro-Drive realize that gear driven was the way to go.
Gear drives are ready to go to work when the water gets shallow!
In Pro-Drive's gearbox the shifting mechanism of a conventional outboard motor was the first thing to be eliminated. While these mechanisms work well, they are the most common problems on lower units when used in swamps and marshes with mud and logs. Pro-Drive has no moving shift dog to engage and disengage.
A gearbox, that has only 2 gears meshed together that are overbuilt, such as the ones on tractor shredders and brush cutters, and the drive axle of every heavy duty truck out on the road, is what Pro-Drive uses. Bearings and shafts are also oversize compared to horsepower standards. These compact heavy duty units are ready to go to work when the water gets shallow and the going gets tough.
We invented the first "Surface Driven Shallow Water Outboard" in 2002 and we are still the only "Gear Driven" Shallow Water Outboard on the market today with 20 years experience.
New "Generation 4H" Lower Unit
New 1-1/8″ Diameter Prop Shaft with easy off Hex Prop Profile is the largest in our market. Increasing the strength almost double over our competitors.
New 1.52 to 1 Gear Ratio
Larger tapered roller bearings throughout the drive system.
Easy access grease zerk for lubing the upper drive.
New Heavy Duty 3/8″ thick one piece skeg for extreme environments and 5/8″ integrated rod for heavy vegetation.
Newly designed cavitation plate with double plated uprights for increased strength and a new angle for better hole shots in mud and vegetation.