When we introduced our Pro-Drive "X" Series boat line, it was our goal to design and build a shallow draft boat to compliment shallow draft outboards. After running many different boat designs, we discovered that flat bottom, hard chine boats run higher and draft less water than the typical round or semi v style boats in every condition, which in turn produces better speeds and load carrying capacity. These flat bottom hard chine boats also turned much tighter and did not drift like the round chine boats.
One of the concerns discussed with our team and various customers was that hard chine boats tend to slide during higher speed turns. They liked all the other characteristics of the hard chine design. So with that in mind we designed a triple taper chine which starts in the back of the boat and fades out to the rake area. It turned out to be the happy medium between the round chine and the hard chine designs. This triple taper chine is on all Pro-Drive models.
Knowing that hunters and fisherman run in areas where they will have to cross logs, stumps, and bottoms that can damage or wreck the bottom and sides of light duty hulls and because of our commitment to quality, Pro-Drive constructs all of our boats with 5086 marine grade, 1/8″ thick aluminum. Our team of designers and builders have extensive knowledge and experience with boats that run extreme environments. That is why we install our ribs, made of 1″ x 2″ extrusions, the length of the boat instead of running them across the width. A boat that has ribs running across the width tends to buckle. This buckling not only damages the hull, but makes the boat a poor performer. We also install 2″ x 2″ tubing, strategically placed across to strengthen the rib and sidewall system. Our new heavy duty T-Rail gunnels finish the strengthening process.
Since our introduction in 2003, of surface driven mud motors and the boats that run them, many others have attempted to design and manufacture these types of boats. Most, while building very attractive boats, fail to consider the design characteristics that allow a surface drive motor to perform it's best. Often the end result is very heavy boat that is underpowered and better suited for a high horse powered outboards.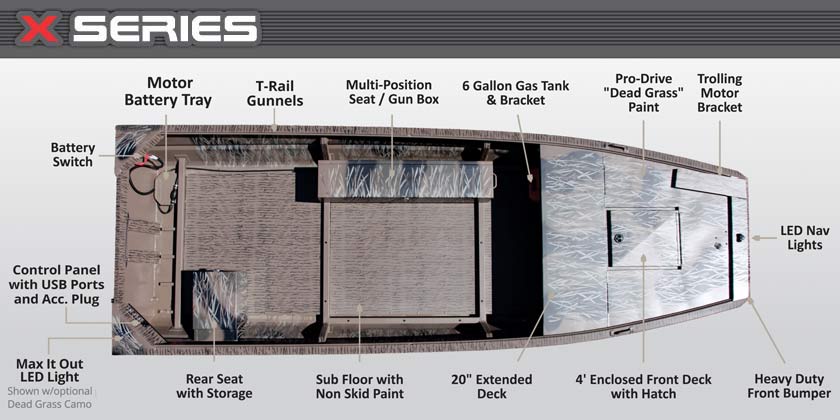 | MODEL | LENGTH | BOTTOM | SIDES | BEAM | WEIGHT LBS |
| --- | --- | --- | --- | --- | --- |
| 16 X 48 | 16' | 48" | 21" | 65" | 475 |
| 17 X 48 | 17' | 48" | 21" | 65" | 500 |
| 18 X 48 | 18' | 48" | 21" | 65" | 525 |
| 20 x 48 | 20' | 48" | 21" | 65" | 575 |
| | | | | | |
| 16 X 54 | 16' | 54" | 21" | 74" | 575 |
| 17 X 54 | 17' | 54" | 21" | 74" | 600 |
| 18 X 54 | 18' | 54" | 21" | 74" | 625 |
| 20 X 54 | 20' | 54" | 21" | 74" | 675 |
| | | | | | |
| 17 X 60 | 17' | 60" | 21" | 78" | 600 |
| 18 X 60 | 18' | 60" | 21" | 78" | 625 |
| 20 X 60 | 20' | 60" | 21" | 78" | 675 |
Tweet this page to your followers
Click To Tweet