When we introduced our Pro-Drive "X Series" boat line, it was our goal to design and build a shallow draft boat to compliment shallow draft outboards. After running many different hull designs, we discovered that flat bottom, hard hine boats run higher and draft less water than typical round or semi v style boats in every condition, which in turn produces better speeds and load carrying capacity. These flat bottom, hard chine boats also turned tighter and did not drift at idle speeds when trying to maneuver at the boat launch or in tight areas such as timber or marsh ditches.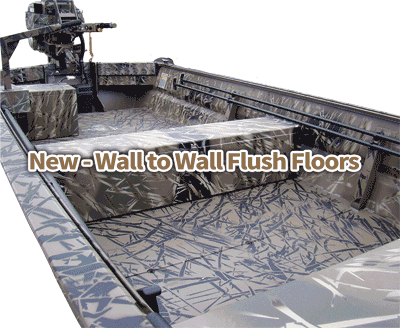 One of the concerns discussed with our team and various customers was that hard chine boats tend to slide during higher speeds in turns. Since this was the only concern, and our team and customers liked all the other characteristics of the hard chine boat, we designed a triple taper chine which starts at the bow of the boat and fades out to a point right at the rake area. It turned out to be the happy medium between the round chine and square chine design.
Pro-Drive, as well as other shallow water boat builders, have experimented with different style bottoms, to increase speeds and improve turning and many have implemented them in their hull design. However, these designs have proven to reduce stabilization, causing the boat to be very weight sensitive when weight is moved slightly to any side. We decided not to compromise here. Many others have attempted to design and manufacture these types of boats. Most, while building very attractive boats, fail to consider the design characteristics that allow a surface drive motor to perform it's best. Often the end result is a very heavy boat that is underpowered and better suited for high horsepower conventional outboards.
All Pro-Drive Boat Models now come with a fully flush floor design. Wall to wall. No side gutters or 2″x 2″ tubing above the floor. Custom Built with Marine Grade 5086 Aluminum sheets, 1″ x 2″ extrusion welded ribs that run the full length of the boat, then solidly braced with 2″ x 2″ square tubing and 1″ x 2″ rectangular tubing every 10″ to strengthen the bottom ribs, full floor, and side walls. These materials, combined with our structural design is NOT found in factory produced hulls. The "X-Series" comes standard with Pro-Drives Heavy Duty T-Rail Gunnel System.
Pro-Drive X-Series Standard Features & Options Included
Newly designed non-skid full floor (wall-to-wall)
Our heavy duty gunnel with T-Rail System included
Tiller Models – Control Panel with switches, drink holder, grab bar receptacle (grab bar sold separately)
Low Profile LED Front Navigation Light
Rear Driver's Seat with storage and utility tray
Heavy Duty 3″ Half Pipe Front Bumper
Six-way multi-position Storage Seat
Extended Front Deck to cover gas tanks
and trolling motor battery
No gutters
Four ft. front deck with deck hatch & storage
Six gallon gas tank and gas tank bracket
Max It Out LED Flexible Bow Light
Trolling Motor Bracket
Battery Disconnect
Rear Battery Tray
Pro-Drive Dead Grass Brown paint
Tiller Control Panel with 6 switches, Acc. Plug, 2 USP Ports, voltage meter, drink holder, and grab bar receptacle (Not Included)
Shown in optional custom camo paint
(not included)
| MODEL | LENGTH | BOTTOM | SIDES | BEAM | WEIGHT LBS |
| --- | --- | --- | --- | --- | --- |
| 16 X 48 | 16' | 48" | 21" | 65" | 475 |
| 17 X 48 | 17' | 48" | 21" | 65" | 500 |
| 18 X 48 | 18' | 48" | 21" | 65" | 525 |
| 20 x 48 | 20' | 48" | 21" | 65" | 575 |
| | | | | | |
| 16 X 54 | 16' | 54" | 21" | 74" | 575 |
| 17 X 54 | 17' | 54" | 21" | 74" | 600 |
| 18 X 54 | 18' | 54" | 21" | 74" | 625 |
| 20 X 54 | 20' | 54" | 21" | 74" | 675 |
| | | | | | |
| 17 X 60 | 17' | 60" | 21" | 78" | 600 |
| 18 X 60 | 18' | 60" | 21" | 78" | 625 |
| 20 X 60 | 20' | 60" | 21" | 78" | 675 |