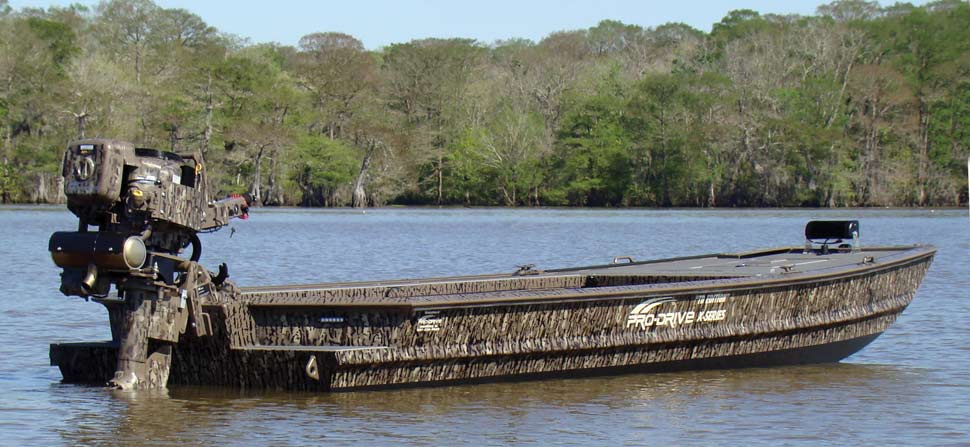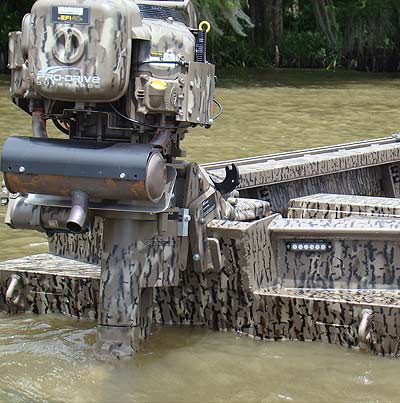 New Design Timber Deck Series
At the request of duck hunters that hunt flooded timber where getting in and out of the boat can be a challenge for dog or man, Pro-Drive added the new "TD Edition" (Timber Deck), to their fleet lineup in 2016. This year we fully redesigned the TD Edition Series. It has a sleeker look with an angle design at the rear entry step. The new angled design also allows for more room inside the cockpit of the boat. It created much easier access to the drain plug and bilge pump.
The "TD Edition", like all Pro-Drive Boat Models now come with a fully flush floor design. Wall to wall. Custom Built with Marine Grade 5086 Aluminum sheets, 1″ x 1″ extrusion welded ribs that run the full length of the boat, then solidly braced with 2″ x 2″ square tubing and 1″ x 2″ rectangular tubing every 10″ to strengthen the bottom ribs, full floor, and side walls.
These materials, combined with our structural design is NOT found in factory produced hulls.As in all our other Pro-Drive Models, the "TD Edition" comes standard with Pro-Drives Heavy Duty T-Rail Gunnel System.
*This model comes with the same standard option Package as our X Series line.
| MODEL | LENGTH | BOTTOM | SIDES | BEAM | WEIGHT |
| --- | --- | --- | --- | --- | --- |
| 18 X 48 | 18' | 48" | 21" | 65" | 525 LBS |
| 20 x 48 | 20' | 48" | 21" | 65" | 575 LBS |
| | | | | | |
| 18 X 54 | 18' | 54" | 21" | 74" | 625 LBS |
| 20 X 54 | 20' | 54" | 21" | 74" | 675 LBS |
| | | | | | |
| 18 X 60 | 18' | 60" | 21" | 78" | 625 LBS |
| 20 X 60 | 20' | 60" | 21" | 78" | 675 LBS |