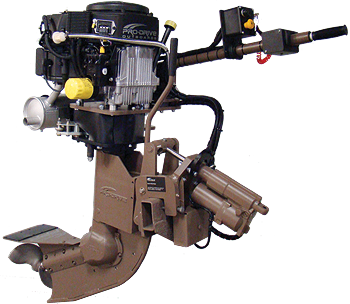 Pro-Drive's X25 Series Kohler Command Pro V-Twin with EFI is designed for heavy use in harsh hunting and fishing environments. This unit has all the same features as our larger horsepower model. For customers wanting something smaller, less expensive, or have horsepower restrictions this is a great option.
All engines come with Hydraulic Power Trim and Hydraulic "FPR" Full Power Reverse. This reverse feature is like no other kind on the market. By rotating the lower unit 180 degrees and using the full strength of the prop's forward thrust, Pro-Drive gives you the only 4 wheel drive of the mud motor world.
In addition to Pro Drive's Full Power Reverse feature is the Automatic Full Power Reverse. This feature rotates the prop 180 degrees so the motor performs as well in reverse as it does going forward.
Specs
• Speeds up to 23-25 mph
• Weight: 320 lbs.
• 725 CC
• 40 lbs. Torque
• 44 Cubic Inches
2 Yr Kohler Power Head Warranty
Standard Features
• Instant Forward and Neutral
• Momentary Forward and Reverse Button
• Tach / Hour Meter
• Momentary Forward and Reverse Button
• Hydraulic Power Trim
• Twist Grip Throttle
• Aluminum and Stainless Construction
• Spine Propeller Shaft for easy removal
• New Designed Skeg and Cavitation Plate
• Gen 4 Lower Unit 1.5 to 1 Gear Reduction
Tiller Handle Features
(click for larger image)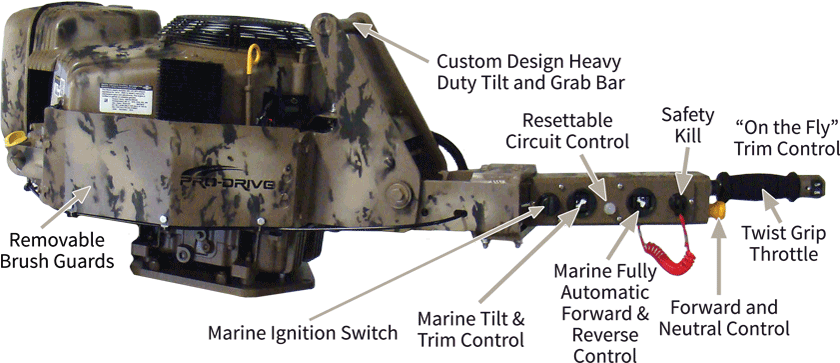 New Custom Camo Paint Patterns (click for larger image)
Motor Options & Accessories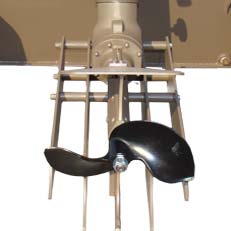 Removable Rock Guard
PD-272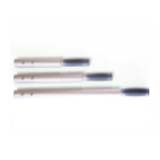 Tiller Handle Extensions
PD-378 8″
PD-379 12″
PD-379A 18″